Jiabang thank you for coming
Our company can process and customize various electric heating industrial ovens, high temperature ovens, IR tunnel ovens, Uv curing ovens, PVC production lines, oil injection water cabinets, automatic oil injection lines, complete coating equipment, etc.
Welcome to inquire: 13712718109 Mr. Lu
Company mailbox: 1362003359@163.com
Company Website: http://ddxhtdq.com/
Product introduction
Native parameters
Inner size: 900mm high 600mm wide 500mm deep
Outer dimensions: height 1600mm * width 930mm * depth 660mm
Box part
采用40mm*40mm国标角铁焊接制作; Box reinforcement material: welded by 40mm * 40mm national standard angle iron;
釆用1.5mm厚冷板折弯焊接制作; Box outer plate:釆 made by bending and welding 1.5mm thick cold plate;
采用K80*100mm厚岩棉制作; Box insulation material: made of K80 * 100mm thick rock wool;
釆用1.2mm厚sus201不锈钢板冲孔折弯焊接制作; Internal material of the box:冲 made of 1.2mm thick sus201 stainless steel plate, punched, bent and welded;
釆用3寸带杀车万向脚轮; Box floor: 3 3 inch belt caster swivel caster;
电压380V 总功率: 7.875KW Power: voltage 380V total power: 7.875KW
发热器材使用耐高温304不锈钢电热管,电热管每条2.5KW*3条,正常使用是.常温至200度可调; Heating system: heating equipment uses high temperature resistant 304 stainless steel electric heating tubes, each 2.5KW * 3 electric heating tubes, normal use is. Normal temperature to 200 degrees adjustable;
升捷牌375W长轴耐高温专用型马达配304不锈钢9寸钢千叶风轮. 使炉内温度均匀,共1套; Luck uses: Shengjie brand 375W long-axis high temperature special motor with 304 stainless steel 9-inch steel chiba wind wheel. Make the temperature in the furnace uniform, a total of 1 set;
烤箱内设托盘,托板材质采用线经sus201不锈钢焊接制作,共计9个托盘; Internal configuration: There are trays in the oven, and the material of the supporting plate is made of sus201 stainless steel, and there are 9 trays in total;
总制开关.固态继电器配交流接触器.温控表用数显温控表、温度可调.烤箱内超温保护器,记时器,报警器,切项保护,电压表.电流表、开关.指示灯.耐高温电线.电览线.等一批国标电器开关组成.方便易懂. Electrical control system: master switch. Solid state relay with AC contactor. Digital display temperature control meter for temperature control meter, temperature adjustable. Over-temperature protector, timer, alarm, cut protection, voltmeter in oven Ammeters, switches, indicator lights, high-temperature resistant wires, TV lines, and other national standard electrical switches. Convenient and easy to understand.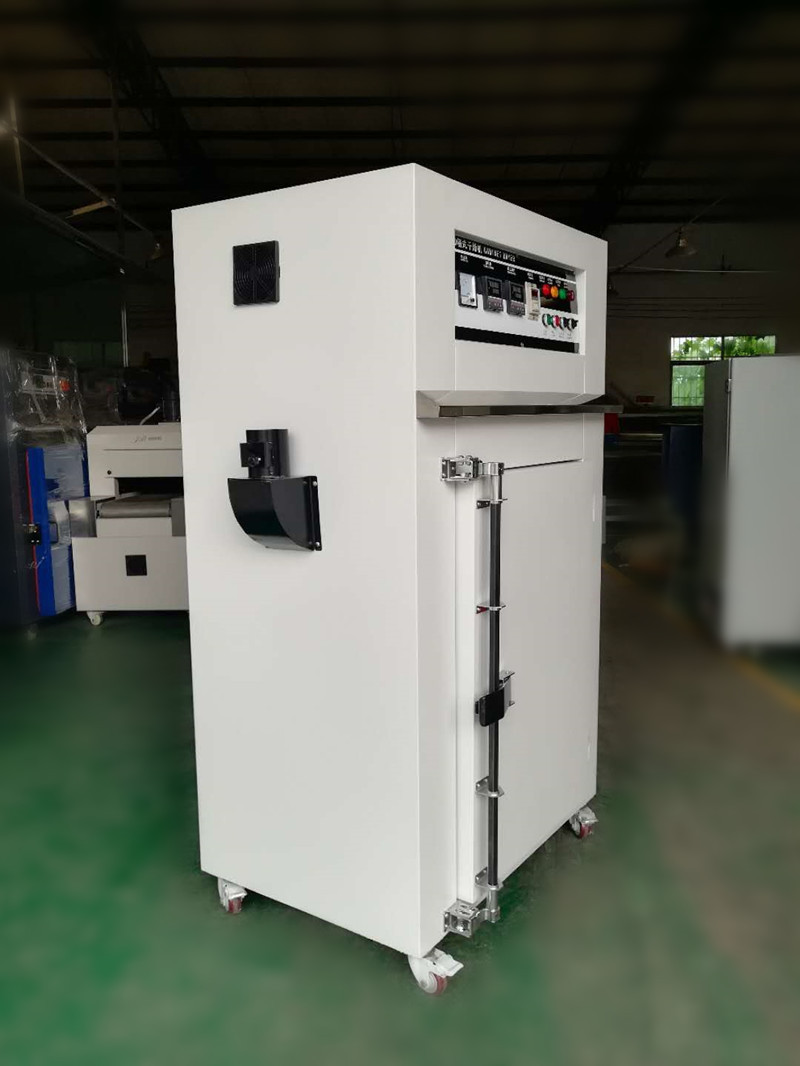 Company Profile
Dongguan Jiabang Machinery Equipment Co., Ltd. was established in 2007. It is a professional production and marketing company dedicated to the research, development, production and sales of solar thermal equipment. Over the years, our company has established high-quality products, reasonable price adjustment, and superior service consciousness, and has successively established customers in many industries such as photoelectric (LED, LCD) integrated circuits, (IC) cameras, mobile phones, displays, and electronic components The internet. At present, the main products are: LED hot air oven, dust-free oven, high temperature oven, thermocompression oven, tunnel oven, clean oven, vacuum nitrogen oven, UV curing machine, constant temperature and humidity test box, etc.
The company has two to three project patents every year. We comply with the needs of the market and industry and meet the various requirements of customers. The products have flexibility and practicality, and create maximum value for customers. Welcome friends from all walks of life to visit, guide and negotiate business.
contact details:
Contact: Mr. Lu
Phone: 86 0769 81089125
Mobile phone: 13712718109
13620003359 (Wechat synchronization)
Address:
No.302 Heluling, Huanzhuli Village, Changping Town, Dongguan City, Guangdong, China
Company's main page: